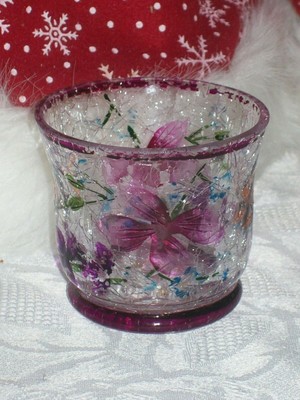 YANKEE CANDLE CRACKLE GLASS VOTIVE HOLDER W/ BUTTERFLIES
Item condition: Used
Ended: Dec 27, 16:41 PST
as of December 12, 2020 4:37 pm
YANKEE CANDLE CRACKLE GLASS VOTIVE HOLDER W/ BUTTERFLIES. THE VOTIVE HOLDER IS IN GOOD CONDITION, NO CHIPS OR CRACKS. THE VOTIVE HOLDER MEASURES APROXIMATELY 2.5 INCHES TALL AND 2.75 INCHES WIDE. PLEASE ASK ANY QUESTIONS YOU MAY HAVE. THANK YOU FOR STOPPING. PS. VISIT MY STORE, "SMYLIN' DOG TREASURES, AND DISCOVER MORE TREASURES.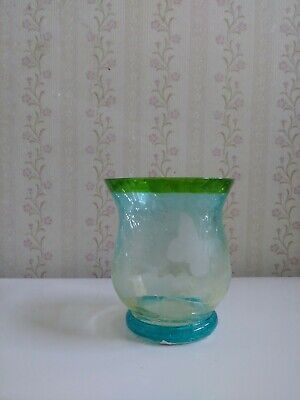 Yankee Candle Butterfly Crackle Votive Holder Nib!
Item condition: New
Ended: Dec 18, 11:16 PST
as of December 12, 2020 4:37 pm
I'm selling a new Yankee Candle crackle votive holder. I bought from Yankee Candle website and never used. In original box. Shades of blue & green with white butterfly print. This votive holder is very pretty and would make a nice birthday or Christmas gift. Shipping price includes: cost to ship item from post office, shipping supplies and my time to get to the post office. I ship Mon-Sat not...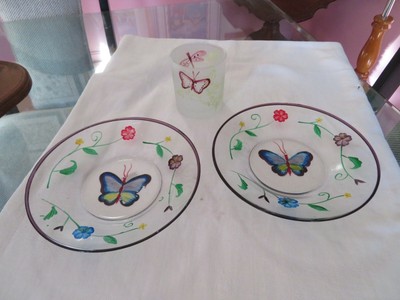 YANKEE CANDLE VOTIVE HOLDER & TWO PLATES - BUTTERFLY CRACKLE & DRAGONFLY
Item condition: Used
Ended: Dec 8, 09:40 PST
as of December 12, 2020 4:37 pm
This listing is for a YANKEE CANDLE votive holder and two plates. They are BUTTERFLY CRACKLE pattern. They were painted from the underside, so every time you put it down or pick it up, there's a chance the paint might peel. The only thing you could do is cover the paint with clear varnish or something. The jar holder has a butterfly and a dragon fly painted on it. It stands just over 3" high...