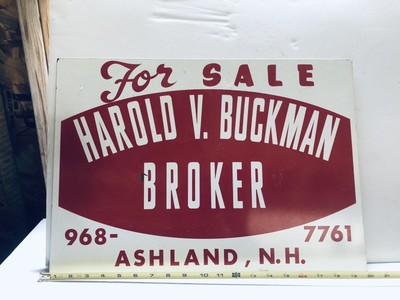 VINTAGE ENAMEL SIGN FOR SALE HAROLD BUCKNAM BROKER ASHLAND NH 20L 14T
in stock
VINTAGE ENAMEL SIGN FOR SALE HAROLD BUCKNAM BROKER ASHLAND NH 20L 14T. HAND PAINTED NICE SIGN ADVERTISING GREAT COLORS . NOT A REPRODUCTION REAL METAL . WE BUY AND SELL MANY ITEMS WE ARE NOT EXPERTS IN ANY FIELD NOR DO WE CLAIM TO BE. WE SELL OUR ITEMS AS WE FIND THEM NOT REFURBISHED ,CLEANED, OR REPAIRED. WE ALSO PRIDE OURSELVES IN CUSTOMER SATISFACTION IF THERE IS AN ISSUE WITH YOUR PURCHASE...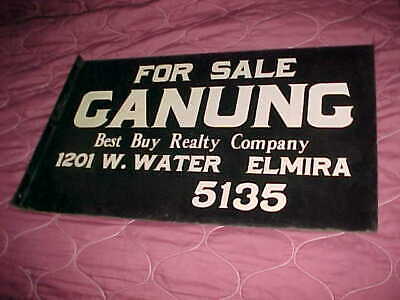 FOR SALE SIGN - vintage WATER ST ELMIRA New York - STEEL/ ENAMEL DBL SIDED
in stock
This attractive baked enamel on steel Vintage realty sign is from ELMIRA NEW YORK. The condition is very nice with a flange of sorts at each end – the Snow White of Black is dramatic in appearance – the lettering could be anything and it would make an imposing display. The size of the sign is 16" x 26 ½" – it is quite heavy and decorated on both sides. One side has a 4 digit phone number and...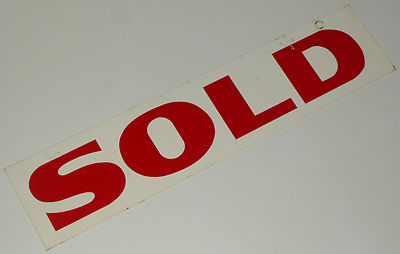 SOLD SIGN VINTAGE ENAMEL METAL HANG-ON HOME FOR SALE PLAQUE REALTY REALTOR
VIEW THIS ITEM
Item condition: Used
Ended: Nov 30, 22:18 PST
This vintage "SOLD" sign was used to hang on the classic wooden Home For Sale signs after an offer was accepted (just like in commercials). It measures 18 inches x 4 inches and is a heavy-duty enamel-coated steel plate. A fun conversation piece or the perfect gift for your favorite realtor.